As educational institutions embrace the advancements of the modern era, technology integration, particularly through digital signage, is becoming increasingly prevalent.

Digital signage serves as a vital communication channel, bridging the gap and providing students, parents, staff, and teachers with the necessary information to fully engage in school life.
Modern campuses are integrating technology in various ways,
including digital signage.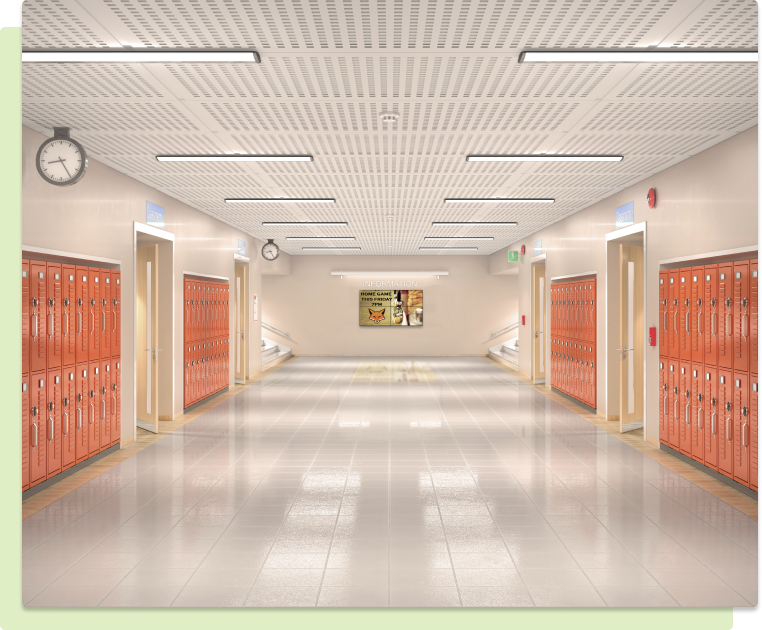 At Revel Media Group, we offer comprehensive solutions to meet the digital signage needs of your campus. From informative wayfinding digital kiosks to dynamic digital signage for announcements, engaging digital menu boards for your cafeteria, advanced electronic systems for lecture halls, and captivating displays for stadiums and auditoriums, we have you covered. Our process begins with a strategy session led by our experienced digital signage professionals. We work closely with you to understand your unique requirements and goals.

Our dedicated team will guide you through every stage of the digital signage implementation journey. We handle everything from strategy development to seamless installation, content creation and setup, and ongoing support and technology services.
With Revel Media Group as your trusted partner, you can be confident in deploying the perfect digital display solution for your educational institution. We are committed to providing exceptional service and delivering results that align with your specific needs. To get started, we offer a complimentary consultation where we dive into your requirements, provide tailored recommendations, and strategize a custom solution that best suits your campus.